The GCMI Color Guide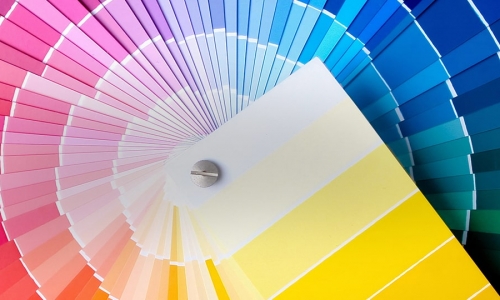 What is a GCMI Color Guide?
The GCMI guide is a collection of sixty colors, numbered for identification, that is offered by American Inks and most ink manufacturers. The Edition X GCMI Flexo Color Guide is the newest edition and the standard color reference guide of the corrugated ink industry.
GCMI (Glass Containers Manufacturers Institute) is a color standard like Pantone but targeted more towards corrugated and paper board. The GCMI color guide was initiated in 1949 by the Glass Container Manufacturer Institute, now known as Glass Packaging Institute. This guide allows us to easily communicate ink options with customers, ensuring beautiful and consistent results. While this guide is helpful you should not use it in place of physical swatches when making a final color decision.
The FLEXO Color Guide Edition X removes any guesswork when printing corrugated boxes because your ink samples are printed on corrugated linerboard. This edition also features more vibrant colors as well as new and safer inks. You will see how color looks on mottled white and kraft roll stock. For this current edition, all ink from the previous editions have been included, plus two gray ink additions.
GCMI Matched Inks
If you don't see a GCMI color that matches what you want, you can select pantone or our specialty colors. For corrugated boxes you can choose between our display grade ink, PH steady inks, corrugated classic inks, reduced viscosity inks, and low copper inks. All these inks have been formulated to match the GCMI color guide as well. One disadvantage to using pantone colors compared to GCMI colors is that Pantone does not provide swatches on kraft. So, the colors might end up being more muted than expected – but have no fear because our ink masters at American Ink have been trained to help your ink selection process.
These paint specifications are necessary because flexographic printing does not have the same designated set of inks as digital printing (CMYK) colors. Which means that they are typically more accurate than what digital printing can offer. Flexo printing is great for businesses wanting to keep their logo spot on because it keeps important colors consistent across all applications, unlike digital printing.
If you have any questions or would like to order GCMI color guides, do not hesitate to call us at (269) 345-INKS or contact us through our general inquiry form.