The Benefits of Choosing American Inks for Your Ink Needs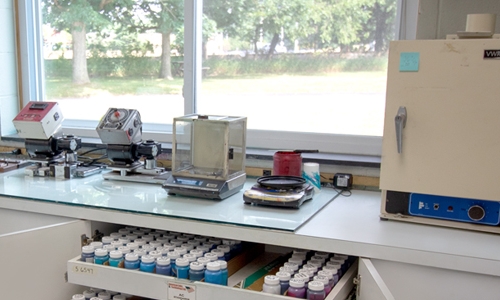 When you choose American Inks for your custom ink needs, you are getting more than just high quality inks. You are also getting a partner who will work closely with you to foster a mutually-beneficial, long-term relationship. From in-plant ink management and on-site ink training to management programs for pH and viscosity, and even individual job management, we are here to do whatever we can to help with your success. In today's post, we will discuss the services we can offer to make sure your printing projects smoothly and profitably.
In-Plant Ink Management
We have trained laboratory technicians who can utilize special software to formulate the custom ink you need, no matter what color you are looking to match. Our techs will follow a strict quality control and inspection process to ensure that we have properly weighed, balanced, and proofed the ink(s) you need to your exact specifications. In addition, we can complete a raw material evaluation to determine if you have everything you need to keep things running smoothly. We can even assist by making sure non-conforming products are properly stored pro potential use, allowing you to use waste and repurpose it into a useful product.
Viscosity and pH Management Programs
Chambered doctor blade systems require precise viscosity for successful printing. We can provide a Viscosity Management Program that will ensure that corrugated reduced viscosity inks are properly formulated for proper color consistency and press productivity. We also offer a pH Management program that maximizes productivity by eliminating the need for plate wash-ups and pH adjustments for consistent color and more efficient printing.
On-Site Ink Training and Individual Job Management
Whether your employees need basic or advanced training, or even a customized training regimen, our friendly, experts can work with you to make sure your team is properly prepared for long-term success. We can even help oversee certain projects with an Individual Job Management program to ensure that even the most challenging projects are completed with a high standard of quality and precision.
Mileage and Quality Assessments
American Inks also offers mileage and quality assessments to assist with your business's efficiency and production. A mileage assessment entails making sure that you have the right amount of ink required to produce the number of prints you need to complete. This allows you to avoid running short of ink during a production run and ordering too much ink which will sit around as wasted, unused stock. We can also provide you with a quality assessment to ensure that the last print you produce looks just as vibrant and clean as the first.
At American Inks, we understand that our success is dependent on your success. We will work closely with you to make sure you get exactly what you need, exactly when you need it. Contact us and let us know about your custom ink needs today!