Solvent Ink from American Inks & Technology is Perfect for Outdoor Applications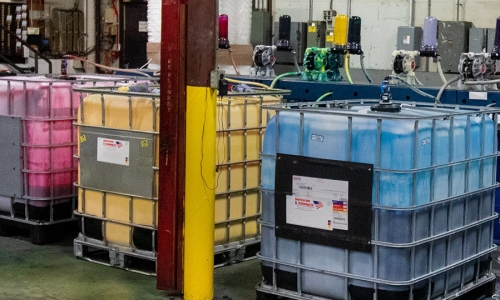 In general, solvent ink is any ink that uses solvent as opposed to water for its base. Solvent ink prints well on non-absorbent materials and is a great option for use in printing of products that will be used outdoors. Solvent ink is durable and is known for its abrasion resistant, fadeproof, and waterproof qualities. Solvent ink is made of three components – carrier fluid, pigment, and resin. These components work together to produce high-quality color with staying power.
Solvent inks are known for being relatively inexpensive and allow for printing on flexible, uncoated vinyl substrates that are often used for outdoor applications such as banners, billboards, vehicle graphics, and more. There are two main types of solvent inks – mild, or eco-solvent inks, and aggressive solvent inks. While aggressive solvent inks are more durable than eco-solvent inks, eco-solvent inks have come a long way over the years in regards to their durability and color quality. Eco-solvent inks also remove some barriers to printing because of their ability to be used in enclosed spaced without the needs for special ventilation systems that are required for aggressive solvent ink printing applications.
At American Inks & Technology, we offer four distinct solvent ink systems – POLYFLEX™, NITROFLEX™, WEATHERBOND™, and AMERIBOND™. For all of our custom ink systems, we custom match, formulate, and provide research and development services in order to provide you with the perfect product for your project. If you would like to learn more about these custom solvent ink systems, click here. If you have any questions or would like to order online or schedule a tour, do not hesitate to call us at (269) 345-INKS or contact us online. We look forward to working with you!