Choose our Customizable Solvent Based Inks and Coatings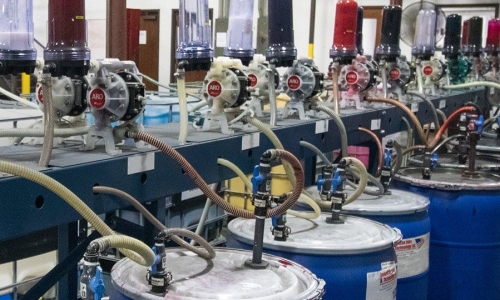 From water-based flexographic inks to solvent inks and coatings, American Inks and Technology has the perfect custom product for your project. We offer two primary types of solvent ink systems for surface printing and although we offer a variety of product lines for each solvent ink system, the two main binders we utilize in formulations are nitrocellulose and polyamide. Not only do we provide these two solvent inks but we also custom match and offer development services to create and enhance your project. When looking for the best ink on the market, choose American Inks and Technology – if you can imagine it, we can make it.
American Inks offers four solvent inks: Ameribond, Weatherbond, Nitroflex, and Polyflex. Some substrates that our solvent-based product lines perform well on are Biaxially Oriented Polypropylene, Cast Polypropylene, Polyester, Nylon, Cellophane, and Polyethylene. Our two standard lines are the Polyflex and Nitroflex. Both are great for printing on flexible films and work well on the majority of recommended substrates.
Weatherbond
Our Weatherbond Solvent Ink System is formulated to withstand direct sunlight and other exposures to the elements outdoors. As conditions do vary, we recommend consulting with us prior to purchase for proper testing and application verification prior to purchase and use. This helps us get the right paint and substrate that you need for your project.
Ameribond
Ameribond is a solvent-based liquid laminate that can handle some of the most corrosive products and chemicals in the world. Some products that it is known for its resistant to are gasoline, caustic cleaning products, and a variety of other harsher chemicals. For true flexibility, Ameribond is also laser printable!
American Inks and Technology is more than just our ink, we also provide a variety of other services for our customers. Some of these include in-plant ink management, pH and Viscosity programs, on-site ink training, individual job management programs, and milage/quality assessments. We are also proud distributors of envelope inks, tag and label inks, corrugated, sustainable, and specialty ink. This allows our customers to come to us with any printing need they have for any project.
If you do not find what you are looking for on our website, contact us for any inquiries! You can message us online or call (269) 345-INKS. We also offer a troubleshooting guide available for download. If you have an inkling, we have an answer! Contact American Inks and Technology today to start your journey towards the perfect paint.