Browse our Water-Based Inks for your Applications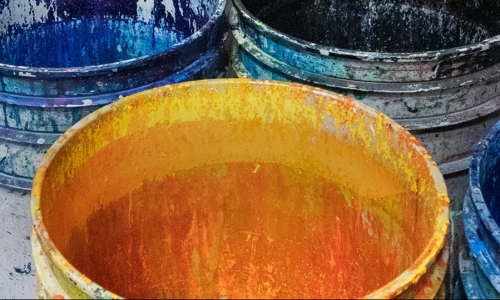 American Inks is proud to offer a wide variety of inks, including a slew of custom and water-based inks for your painting needs. If you are looking for vibrant, long-lasting colors then you have come to the right place. American Inks provides its customers with environmentally friendly inks, water-based inks, solvent inks, and more. In addition to our types of paint products, we also have an unlimited supply of potential colors for you to choose from. Don't find the exact color you are looking for? We can formulate it for you to the exact shade and consistency that you desire.
Fire-Flex Fluorescent Inks
Printing fluorescent in one pass can be nearly impossible but our fire-flex fluorescent water-based inks make it doable! These water-based inks are bright AND easy to print with. This ink runs on an array of substrates with high color strength which allows for improved graphics. So if you need something that will truly pop with vivid color, then shop our fire-flex water-based fluorescent inks.
Ameriverse
Are you looking for an ink that can be laminated and has an adhesive? Then Ameriverse water-based ink is for you! The Ameriverse water-based ink is a changeable web ink system made primarily for labels and tags. These types of inks are great for a variety of substrates and can be laminated with almost any adhesive. These water-based inks can also be matched to auto-grade pigments for use in extreme conditions. Shop Ameriverse ink for your labels and tags for eye catching results that you can use anywhere.
Hydrolv
This environmentally friendly water-based ink replaces acrylic resin with up to 22% more water than our Corr Classic product line! This low viscosity ink promotes an increased sustainability for the printer AND the environment. If you are searching for a paint that does its job for you and the world, then purchase our Hydrolv water-based ink today!
If you have any questions regarding our product lines and the potential for color formulations, contact American Inks to have your answers. On our website you can head to our general inquiries or simply order online now. If you would like to schedule a tour or have a vendor supply inquiry, use our online form to submit your request. American Inks looks forward to hearing back from you and creating a long-lasting relationship.