Learn About the Water-Based Inks We Offer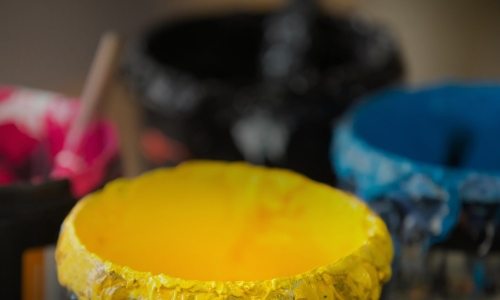 No matter what your water-based ink needs may be, American Inks and Technology can provide you with whatever you need to meet the requirements of your application. From consistent color to pH balance, precise viscosity, and more, we can provide you with the right custom water-based ink system to meet your printing specifications. While water-based ink works best with cardboard and paper items, our inks have the level of quality sufficient for application on a wide number of substrates. In today's post, we will take a closer look at the different ink options we have available for your applications.
Display Grade Ink
When you have an application that requires color precision, then Display Grade water-based inks are the perfect option, providing bright, glossy color. These inks – which can be matched to GCMI, Pantone, or custom ink colors – can also be successfully used on a number of different substrates at much higher press speeds.
Corrugated Classic Ink
If you need GCMI IX color matched on kraft, white, and bleached white stock, then the Corrugate Classic water-based ink system is the best option. This is the best option where color consistency and press productivity are prioritized over the precision of the color for the application.
Reduced Viscosity Ink
For chambered doctor blade systems that require precision viscosity, this is the best water-based ink system available. While this system is also effective matching GCMI colors on kraft, white, and bleached white stock, they are appropriate for projects in which press productions and consistent color are more important.
pH Steady Flexographic Ink
These inks are specially designed to eliminate the need to adjust the pH level on the press. These environmentally-friendly inks are made for longer press runs to improve pressroom stability. This ink system allows you to work without need of plate washups and pH adjustments.
Low Copper Ink
Designed to be environmentally-friendly, our Low Copper Ink system will keep you in compliance for applications that have copper limitations in place. Low Copper Ink can match an exact color for almost any application, and can easily match GCMI edition XI for kraft, white, or bleached white paper.
American Inks and Technology can provide you with a superior ink system to meet your needs, no matter what application you need it for. If you have any questions about any phase of the ink ordering process, please contact us and let us know what you need.