Learn About Digital Printing and Flexographic Printing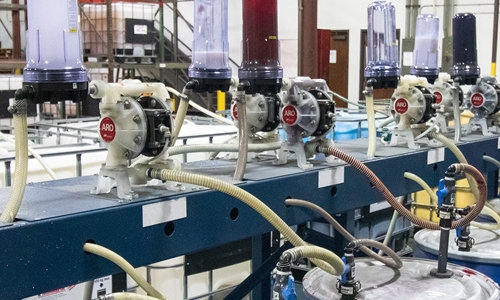 American Inks and Technology offers a great selection of flexo inks for all of your flexographic printing projects. We offer plate printing services with this flexographic ink which allows us to create great looking ink applications that look great and will last long-term, similar to letterpress. Unlike the digital printing process, this method has the ink applied to the substrate, rather than a plate. In addition, we also provide services like in-plant ink management, pH and viscosity management, on-site training, job management, and mileage/quality assessments. Read further for more information about the services we can provide for your business.
Comparing Flexographic Printing with Digital Printing
The main difference between Flexographic Printing and Digital Printing is that the Flexographic method involves the use of plates to transfer imagery and ink onto the substrate, while the digital printing process prints the imagery directly onto the application. The Flexographic method can precisely match the pantone color's exact shade and apply it to nearly any material. This method is ideal for longer press runs and projects that require lamination or foiling. The one drawback of this process is that it will require custom plates, with many of them required for any elaborate designs.
With Digital Printing, the process is very similar to using your small home printer, but on a bigger scale with increased capabilities. This process allows for quicker printing of your image without the need for plates. This means a shorter turnaround for your projects, especially in cases where you need multiple different images printed. This process cannot be used on all materials and it requires toners being mixed to match the colors with shade variations possible. You will also need separate processes if you require foiling or lamination for the project.
Learn More About American Inks Flexographic Inks
American Inks and Technology can custom formulate the inks you need for any printing application. We offer a variety of both solvent-based and water-based inks, including envelope inks, tag or label inks, and other specialty inks. We custom-make all of our ink to your specifications, so you are getting the exact color you need, rather than a mass-produced ink. No matter what specific shade you need, we can provide it for you.
With our ability to formulate specialty inks gives us the capability to accommodate any printing project no matter how unconventional or unique. For more information about our inks or capabilities, please contact us today.