Find the Right Ink for Your Next Printing Project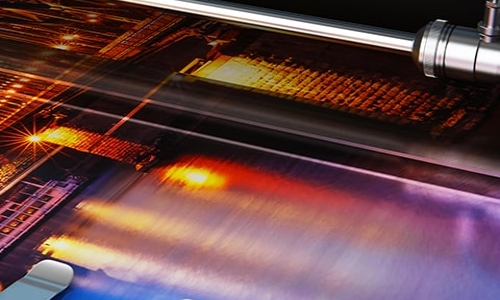 Trying to find the right ink to use for your next big printing project can be a challenging task. Getting the right colors and qualities in your print is Important, and with the wide variety of solvent and corrugated inks at American Inks & Technology, finding the ink that best fits the properties and colors you're looking for is possible. Our flexo Inks have been engineered by our team of experienced chemists for a variety of printing applications.
Our Solvent Inks Were Designed for Surface Printing and Packaging
If you're printing on surfaces like nylon, cellophane, and polyethylene, or you don't want your print to lose its color in tough conditions, our lines of solvent inks are an excellent choice. Our standard line of polyamide solvent inks, Polyflex offers your prints strong adhesion to surfaces, while our line of nitrocellulose solvent inks, Nitroflex, offers greater heat resistance. Your design will be well preserved with our solvent inks, even outdoors. Worried about direct sunlight or rain harming your print? Weatherbond is the right choice to protect your project from being damaged by the weather. Or if you're looking for an even more resilient coating, Ameribond, our solvent based liquid laminate, will protect from corrosive or caustic chemicals, and is laser imprintable.
For Exact Color and Consistency, Try Our Corrugated Inks
Our corrugated water-based inks offer a variety of qualities for any printing need. Our Display Grade water-based ink will provide Intense colors and gloss. Want an ink that stays consistent print after print? Corrugated classic and Corrugated Reduced Viscosity inks are made for color consistency and press productivity. Need an ink that is environmentally friendly? Our PH Steady Inks eliminate the need for PH adjustments while printing, and our Low Copper Inks allow you to comply with copper limits where imposed, while not sacrificing your prints color. No matter what color you're looking for with our corrugated inks, our GCMI color guides will help you match the exact color you want with the water-based ink that will best suit your project's needs.
For even more specialized properties for more special applications than what our solvent and corrugated inks offer, our chemists can help you get ink that best fits your needs with custom ink options. American Inks & Technology has expertise to offer help you get the exact qualities and colors you're looking for in your ink.
Contact us today and let us know what ink qualities your next printing project needs.