Find the Colors You Want for Your Project with the GCMI Color Guides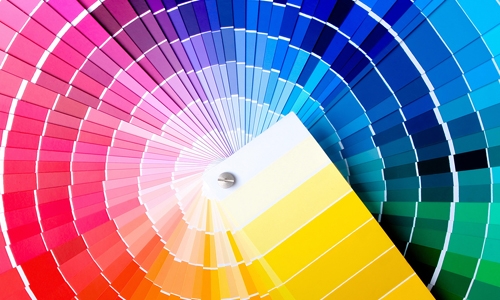 Making sure your printing project has the right color inks can take a lot more work than you might expect. Perhaps you can't find ink in a color that looks right, or maybe you can't find ink in the color you want that also has the properties that meet your application's needs.
If you're having trouble finding ink in the right color for your flexography project, you can benefit of the color matching and formulating capabilities that American inks & technology has to offer. Even offering specialty inks with custom colors, you'll be able to use even the most specific flexographic ink colors for your printing project.
The Flexo Industry's Color Reference
Utilizing kraft and white stock linerboard, and providing a reference for 42 colors, the Edition X GCMI Flexo Color Guide is the industry's standard color matching reference for corrugated inks. An excellent tool for those who want to find that specific color of ink to finish their flexography project, the GCMI color guide provides not only a color reference to see what each ink looks like once printed, but also provides numbers for each color. When you're looking for a specific color of flexographic ink, the GCMI guides can help you to identify the color and variety of ink that meets your project's needs.
Need A Color That's Not on the GCMI Color Guide?
When you need to find ink in a specialty color for your next flexographic printing project, you can count on American Inks & Technology to provide you with inks that have the colors and properties you need. With custom and specialty inks, whether you need a color that you can't find on the GCMI color guide, or if you need an ink that can be printed onto a specialty substrate, our team of chemists are ready to work to create a specialty ink for your projects. Able to create inks with specialty colors and properties, if you can come up with a specialty color, the chemists at American Inks & Technology can make it.
American Inks & Technology is no stranger to helping customers find the color inks they need for their flexographic printing projects. Making use of the GCMI color guide, and even creating custom inks for specialty colors, we'll be able to match any color you need, even if we have to make a completely new ink to do so. Contact us today to let us know your specialty ink needs!