An Overview of How Ink is Made from the Premier Solvent Ink Manufacturer, American Inks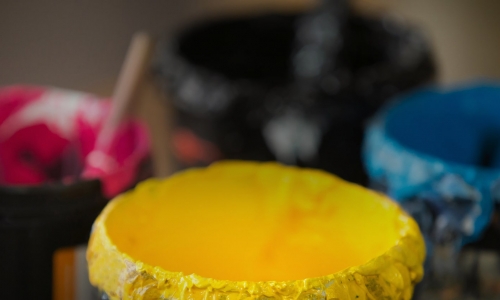 As we mentioned in our last post, the foundation of ink is made up of two primary components – pigments and dyes. Pigments can be found naturally or are manufactured and are insoluble and work with the material they are being mixed with (like ink), whereas dyes are soluble in ink and produce color through the chemicals. In this post, we will look at the process by which water or solvent inks are developed.
As stated above, the two main ingredients are dye and pigment. The dye is soluble, dissolving in the ink while the pigment is insoluble and must be ground up and added to the mixture so that it will not settle or separate, causing issues and inconsistencies in the ink. The dyes and pigments that are used in order to make the desired custom ink color will vary depending on whether water-based or solvent ink is being manufactured for your product packaging or other ink application.
Once the appropriate dyes, pigments, and base are chosen, all of the ingredients are put in a large, heated vessel that will dispense the ink in liquid form once it is complete. The custom ink is then strained though a filter to ensure the best quality, most consistent custom ink product.
At American Inks, we develop and manufacture custom water-based and solvent inks and coatings using pigments and dyes that when mixed perfectly match the color you need for your product packaging, signage, or other application.
If you have any questions, or would like to schedule a tour, do not hesitate to contact American Inks & Technology today. We look forward of partnering with you for your next project.