An Overview of Flexographic Ink and Printing from American Inks & Technology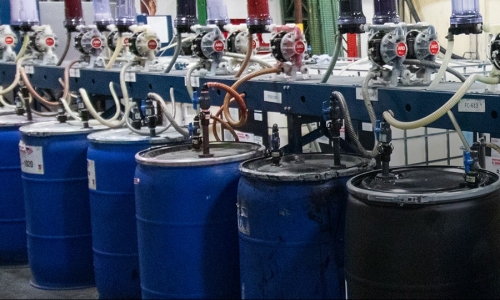 Flexographic (or flexo) inks and printing are widely used in a large number of varying industries and materials that can include food and beverage packaging, cardboard, plastic bags, and more. Flexographic printing using flexographic ink is the most popular method of printing overall for a number of different reasons that we will discuss in this post.
Flexographic Printing
Flexographic printing got its name from flexography and uses a flexible printing plate that transfers the image on your chosen materials as it moves through fast moving cylinders. One of the main benefits of flexographic printing is that it produces large quantities of labels and products quickly, efficiently, and at a reasonable price. Flexographic printing is used for a lot of packaging, containers, and more that you see every day without giving it a second thought. As mentioned at the beginning of this post, these materials are wide ranging and includes everything from food and beverage containers to envelopes and legal forms!
Flexographic Inks & Coatings
Flexographic ink has three main types available to choose from that include water-based, solvent-based, and UV. The type of flexographic ink that will be used for your project depends on the substrate you have chosen to be printed on as well as budget, speed, and your specific need and preferences.
At American Inks & Technology, we are proud to be able to custom formulate water- and solvent-based flexographic inks and coatings so that they meet your exact specifications. As the largest flexographic ink manufacturer in the State of Michigan, we have formulated and developed inks and coatings that are being used by people across the globe! Please do not hesitate to contact us with any questions you have about our flexographic ink or any of our other products.