Should I Use Water-Based ink or Solvent Ink?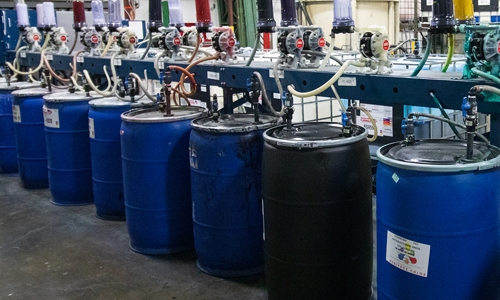 Should I go with solvent ink or water-based ink? A question that many people ask themselves before starting an application. At American Inks, we believe in providing our customers with the knowledge and information they need to pick out the best product for their application. That is why we have technicians on-site who can answer the questions you have before even starting. When choosing between water-based ink and solvent ink, you need to think of the application. What is the material? Will it be outside or indoors? At American Inks, we go over perfect option for you.
When to Go Water-Based Ink
When choosing to go with a water-based ink, it is important to know what you are going to use the product for. Water-based ink works well if you would like to keep the sheen throughout its lifetime. Water-based inks are also better for printing and are environmentally friendly. At American Inks, we have a variety of water-based ink options for our customers. Our water-based inks can do multiple high-speed press runs and can match most GCMI and specialty colors to the exact preciseness. When you need color consistency and press productivity, water-based inks are the best way to go. For more information for our water-based inks, click here.
Choose Solvent Ink
Our solvent inks are long lasting and can be specially formulated for a variety of substrates including BOPP, CPP, polyester, nylon, cellophane, and LLDPE/HDPE. Solvent inks are best for situations where your application will be facing extreme temperatures or outdoor elements. At American Inks, we also have our Ameribond that is resistant to gasoline, caustic cleaning products, and a multitude of other chemicals.
When searching for the right ink for your product, take into consideration the other aspects of the application, and what it will be facing. With American Inks, you get custom ink options and experienced technicians that can help you find the perfect color and ink type. We know that our customers are looking for our expertise when they ask us about the perfect ink for their application. If you are unsure on if you should get a water-based ink or a solvent-based ink, contact American Inks and we can provide you with the answers you seek.
Click here to be taken to our online contact form for general inquiries!