5 Tips for Increasing Your Flexo Packaging Printing Speeds from Your Custom Flexo Ink Company, AIT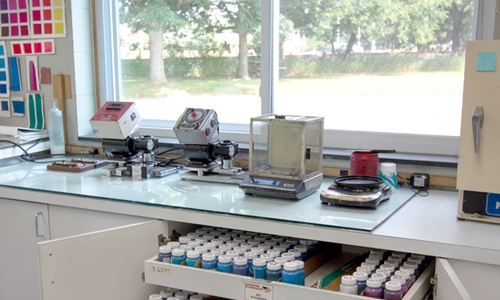 When it comes to printing, efficiency and speed are of the utmost importance. The faster your flexo printing speeds, the more orders you can fill, which is great for you and your customers. In this post, your custom flexo ink supplier discusses five ways to increase your printing speeds without sacrificing quality.
Adjust your anilox roller.
First, you want to ensure you're using high-quality anilox rollers that are designed for the type of printing your project requires. For instance, if you are using a lot of ink, you would want to use a low-line anilox roll.
Adjust surface tension.
Oftentimes, there are small adjustments that can be made to speed up your flexo packaging printing speeds. If you increase surface tension, you can speed up your flexo ink drying times. However, it's important to do test runs to ensure that you are not sacrificing quality to increase drying times.
Use elastomer printing sleeves.
Elastomer printing sleeves can be made quickly with laser engraving technology, allowing you to begin printing your packaging sooner because they take less steps to make. As an added bonus, they also last longer than standard methods.
Adjust your pressroom.
In some cases, it's not the machinery that needs to be adjusted to improving your printing speeds, instead (or in addition) your pressroom may need to be optimized. This can include things like adjusting humidity levels based on the type of ink you're using or ensuring there is proper ventilation.
Assess drying times and ink types.
When your goal is speed, you need to be sure you're using a custom flexo ink that will dry in the right amount of time so that the finished product is not smeared or smudged.
At American Inks & Technology, we work with a wide range of flexo packaging printing companies. If you have any questions about what type of flexo ink is best for your needs, do not hesitate to contact us today!